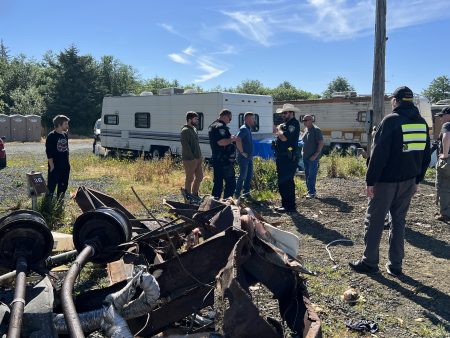 PACIFIC COUNTY — The new owners of an RV park in Ilwaco, Wash., have violated multiple provisions of Washington's landlord tenant laws, according to the state
In a cease and desist order and a notice of violation issued last week, the Attorney General's Manufactured Housing Dispute Resolution Program found that Michael and Denise Werner used improper notices and intimidation to try to evict tenants of Beacon RV park; they retaliated after tenants filed complaints with the Attorney General's office by decreasing park services; they failed to offer tenants written rental agreements and have not given people a way to pay rent; and they violated local rules around maintaining the park — among other issues.
The state ordered the Werners to stop all actions that were against the law including attempts to evict tenants without a proper 12-month's notice. The Werners were also instructed to provide $2,000 in relocation assistance or actual relocation costs (whichever was greater) to tenants who left the park after Feb. 25.
Now the state is investigating the demolition of several trailers at the park this week and last week as possible violations of the order and notice.
Violation or no violation, for the few remaining Beacon RV tenants, the destruction of the trailers feels like another attempt by the Werners to intimidate them into leaving or, failing that, to make the park unlivable.
Susan Gill, a longtime resident at Beacon RV, said the demolition crews severed or did not properly cap septic lines when they broke down several trailers, leaving behind an unsanitary mess. 
Some of the trailers were no longer being used, but it isn't clear if this was true of all of the trailers.
Other tenants were afraid to leave for their jobs, worried their homes would be destroyed in their absence. Garbage has piled up and the state noted a rodent infestation.
To Gill, it feels like being under attack.
"You could describe it like living in Germany and having the Nazis coming and knock on your door," she said.
The Werners and their representatives have said there are various electrical issues and other maintenance and safety concerns at the park and people need to leave. But the state says it has not received specifics from the Werners, despite being told this information would be provided.
Police presence
The Werners, through their company Deer Point Meadows Investments LLC, bought the Beacon RV park business from current Ilwaco Mayor Mike Cassinelli earlier this year for $1.5 million. The park is located on land leased from the Port of Ilwaco and many tenants have lived there for years. 
The Werner's actions at the park since before they formally took ownership have been a source of community consternation and the Long Beach Police Department has become a semi-regular presence at Beacon RV.
Just after the sale was finalized, tenants called officers down when one of the Werner's representatives showed up openly carrying a gun and saying he was there to begin removing trailers. Chief Flint Wright told the man he couldn't take away any private property without a court order.
Long Beach police officers responded most recently last week and again on Monday when demolition crews arrived to tear down some of the trailers.
The police department deals in criminal law, but Police Chief Flint Wright said, "Civil violations can cross over to criminal violations pretty quick if you're not careful. My hope is they'll stay within the guidelines, but I don't know what's going to happen."
With the ongoing turmoil at the park and the recent orders from the state, the police department finds itself in a strange position.
Officers are now documenting everything going on at the park and — so long as it doesn't involve an immediate risk or threat to someone — referring any potential violations by the Werners and their representatives and contractors to the Attorney General's Office.
"This is an area I have never been in, in 30-plus years of being a cop," Wright said.
The Port of Ilwaco and the Werners have asserted that the RV park is essentially a campground meant for temporary stays, without the protections afforded to tenants of long-term facilities. But Wright disagrees.
"Our contention is we look at Beacon RV park as not a campground," he said. "People have been living there permanently for a long time and that's how we're approaching this. The only way that anybody is going to be removed from there is with a court order from a judge saying, 'You shall vacate the premises.'"
Community backlash
Concern about the fate of the park's remaining tenants and questions about the role of local government has sparked stormy back-and-forth debates at port and city council meetings in Ilwaco.
The park has been home to as many as 100 people, according to local estimates. But "due to Beacon RV's unlawful behavior, a majority of tenants were forced to leave the park," the state noted in its order.
With few affordable rental options across Pacific County, steep costs, crowded RV parks elsewhere and little time to prepare for such a big change, many of Beacon's tenants have been unsure about where they will go. Many live on minimal or fixed incomes; among them are people who are elderly, disabled or facing other health issues.
Cassinelli and Port of Ilwaco Commission Chair Butch Smith maintain there is little to nothing the city or the port can do to address the situation at the RV park — an answer that has not satisfied park tenants or others advocating on their behalf.
At a recent Ilwaco City Council meeting, Cassinelli was forced to recuse himself from future discussions of the park after a vote by the majority of the other city councilors.
Eviction lawsuits going forward
After issuing several vacate notices to tenants earlier this year that were either rescinded or considered unlawful by the state, the Werners began formal eviction proceedings against 15 remaining tenants through the Pacific County Superior Court in June.
Robina Rayamajhi, an attorney with Thurston County Volunteer Legal Services, represents nine of the tenants, including Gill. She filed a response to the eviction lawsuits last week and cited a number of factual and legal issues with the  lawsuits.
She can't say what will happen next as the matter winds its way through court. For now her goal is to help her clients achieve their individual wishes when it comes to their residency at the RV park. 
"I know none of them really want to be there," she said. "It's not a great situation to be living in."
Meanwhile, the Werners have until Aug. 20 to request an administrative hearing regarding the Attorney General's cease and desist order or the order will become permanent.
KMUN reached out to the Werners for comment, but received no response.