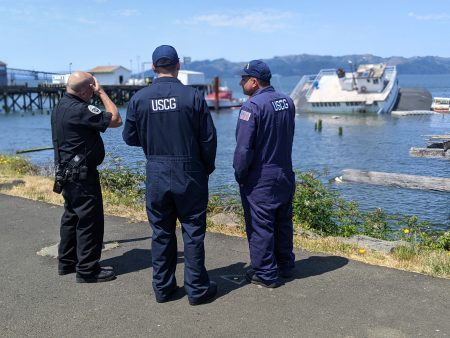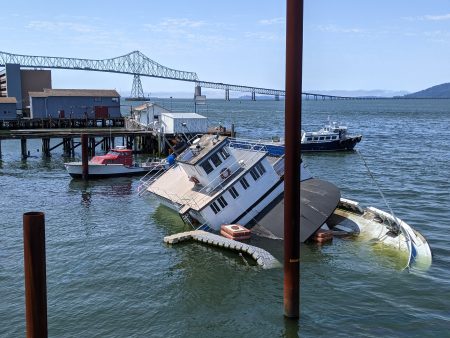 ASTORIA — The Tourist No. 2, a former Columbia River ferry boat built in the 1920s, capsized at a dock near downtown Astoria Thursday afternoon.
Good Samaritan boats arrived to try to contain some fuel spilled from the vessel as the smell of diesel filled the air. 
Donald Anderson, chief marine science technician with the U.S. Coast Guard Sector Columbia River, was on the scene and said the Coast Guard has been in touch with Christian Lint, the vessel's owner. They are still trying to determine how much fuel could be on board and the scope of the potential pollution threat.
The ferry is leaning deep to one side and is not in the way of any ship traffic, Anderson noted. Lint has told the Coast Guard that he is working to bring down a hard boom to better contain the vessel and the fuel. 
Bill Wechter, owner of Coastal Towing and Salvage, was one of the boat operators who responded when the ferry began to sink. He put out material to absorb the diesel that was, he said, "coming out in gallons" from the Tourist No. 2.
"I just didn't want all that oil going out in the river," he said.
Wechter estimates it will easily cost Lint tens of thousands of dollars to deal with the ferry cleanup and removal, and it is unlikely the Tourist No. 2 can be salvaged now that salt water has damaged the vessel's engine and electrical systems.
The Tourist No. 2 once carried people and cars back and forth across the river before the Astoria Bridge was built in 1966. It returned to Astoria in 2016 when a group of locals that included Dulcye Taylor, former board president for the Astoria Downtown Historic District Association, Astoria Planning Commissioner Cindy Price and the late Robert "Jake" Jacob  formed the nonprofit Astoria Ferry. The group hoped the ferry could be turned into a sort of floating museum.
After an unsuccessful attempt by the group to raise the money needed to restore the Tourist No. 2, Lint abruptly left moorage at Pier 39 and moved the vessel to pilings near the Sixth Street viewing platform in 2020. He listed the vessel for sale in 2021. Lint could not be reached for comment.
This is a developing story.