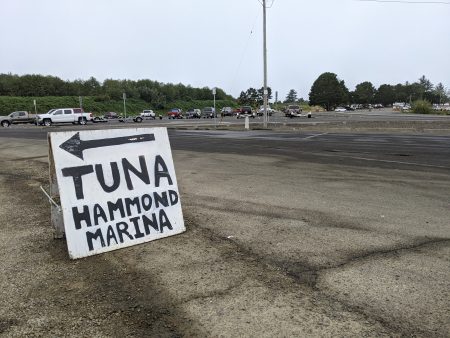 HAMMOND, Ore. — State fishery managers abruptly closed the lower Columbia River to all salmon and steelhead fishing Thursday night, saying a popular recreational fishery was having too big an impact on threatened Chinook salmon.
On Friday morning, Marvin Henkel sat at a picnic table in the Hammond Marina near Warrenton and scrolled through Facebook posts on his phone as the nearby parking lot emptied of pick-up trucks hauling boats.
A man looking at a smartphone is not an unusual sight. But for Henkel, a fishing guide, it was a strange moment to experience ahead of the Labor Day weekend, at the height of the popular Buoy 10 fishery on the Columbia River and with a large run of coho salmon on the way.
When the closure was announced yesterday, he called clients who were en route to fish with him and told them the bad news.
"And I got yelled at saying, 'You know, you've been bragging about what a huge coho run this is and now what?'" he said. "In my opinion it made the state of Oregon look bad and made the state of Washington look really bad on top of that."
For Henkel, thousands of dollars of revenue is now up in the air. He and others predict the closure could also be devastating to small businesses — the bait shops, stores and restaurants that plan around Buoy 10 each year.
But Oregon fishery managers say the handle rates of lower Columbia River tule fall Chinook in the fishery were more than double what was expected, with some of the highest handle rates of fall Chinook ever observed — as much as one fish per fisherman on some days, according to estimates.
Even after fishermen were no longer allowed to keep the fish, handle rates remained high.
Lower Columbia River tule fall Chinook salmon are listed as threatened under the Endangered Species Act and their presence in a fisherman's catch can have big implications for how the state allows or restricts fishing.
Fishery managers say a perfect storm of circumstances contributed to the high impacts on the fish.
First, there were a lot of fishermen on the water this summer. The state had also allowed a large block of days for fishermen to keep any Chinook salmon they caught. Then, the tule fall Chinook, which usually move quickly upriver, instead seemed to linger in the lower river, making it more likely one would show up at the end of a fisherman's line.
Tucker Jones, ocean salmon and Columbia River program manager for the Oregon Department of Fish and Wildlife, said the closure was a tough call.
"It's really difficult," he said. "It's difficult for anglers and families who had trips planned. It's difficult for businesses who assumed fisheries would be going on. It's difficult for, you know, local counties and municipalities who were maybe counting on some of those revenues coming in.
"This is a really unfortunate, really terrible place that we landed in."
But he said the closure was necessary to ensure fisheries remain within their conservation limits and to enable fishing elsewhere.
The state is looking at how it tweaks management of the fisheries next year to avoid another early closure.
There is a chance fishing could reopen downstream of Bonneville Dam to allow fishermen to target coho.
That's what Henkel is holding out for. He decided not to follow other guides in chasing the salmon upriver. He's already hearing about hours-long waits at boat ramps.
For now he has dropped his rates a bit, offered crabbing trips to clients who still want to come down and is planning to fish the ocean.