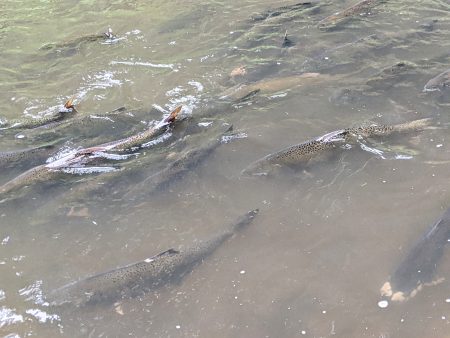 OLNEY, Ore — A fish passage project outside of Astoria aims to reconnect key wild fish species with prime habitat that has long been difficult — if not impossible — for them to reach without human help.
The North Fork Klaskanine River is the first major watershed that salmonids and lamprey returning from the ocean encounter in the Lower Columbia River Estuary. It is a tributary that spills into Youngs Bay, which flows into the mighty Columbia River beyond.
But three dams associated with the Oregon Department of Fish and Wildlife's North Fork Klaskanine River hatchery near Olney, where the state rears fall Chinook salmon and steelhead, have long been barriers for many types of wild salmonids heading upstream.
First there is the Ogee Dam. Here, hatchery fish make a right turn to the hatchery but many wild fish are stuck. Hatchery staff have had to physically sort and transport them above the dam.
Until recently, hatchery staff would have had to take wild fish past two other dams as well. But in 2020, a dam in the middle was removed and, in mid-September, crews wrapped up major modifications at Intake Dam Three.
This dam, located on the North North Fork of the North Fork Klaskanine River, just off Highway 202, remains in place and its water flow will still be used in hatchery operations. But now, instead of being an impassable barrier for some wild fish species, it features a man-made, graded stream bed. This was highly technical work that necessitated temporarily redirecting the river flow.
The new stream bed opens up miles of quality habitat upstream and eases the way for key species like coastal cutthroat trout — considered a species of concern — and Pacific lamprey as well as wild salmon and steelhead that are listed as endangered or threatened.
With the completion of the dam modifications, Graham Klag, executive director of the North Coast Watershed Association, will be keeping an eye out for lamprey in the waters above the Ogee Dam and Intake Three.
Pacific lamprey are an important piece in the overall food web — the so-called bacon cheeseburger of the fish world — and a traditional food for indigenous people of the Northwest. Recently, lamprey have been the focus of restoration efforts. Their presence in the North North Fork would be an early sign that this particular fish passage project is succeeding.
"It's really a project that will directly benefit them," Klag said. "In the future, as we do more work, then we'll start to get to the other species, which should be up here but are not … such as coho, steelhead … potentially even chum."
The verdict is out if chum can make it up so far, but, as Klag noted, "You never know."
The North Coast Watershed Association led the fish passage project along with various partners. All of this work — the removal of the one dam, the modifications to another — sets the stage for major work on the Ogee Dam.
The state has proposed removing the Ogee Dam and constructing a roughened channel to restore the slope of the stream, essentially opening things up even more concretely to wild fish.
There is high quality habitat above the Ogee Dam, said Kregg Smith, senior policy analyst for the Oregon Department of Fish and Wildlife. Yet, wild fish returns to the area have been relatively low.
"If we remove this," Klag said, gesturing at the Ogee Dam, "then we're going to see the benefits of all those (dam changes) come into play, too. We're essentially working from top down to get to this fix, which is going to be a very expensive — probably a million dollar — project."
"But," he added, "it will be worth it because we've done all that other work"
In mid-September, as contractors finished work on Intake Three, hatchery fall Chinook salmon returned along the North Fork Klaskanine River.
The fish turned toward the hatchery, flashing forward in sudden bursts, fins breaking the water's surface and revealing brief glimpses of speckled backs.
Klag and others watched them for a while and then turned back toward the Ogee Dam and back to where crews had been preparing to let water flow freely again across Intake Three.
As Klag neared the site, he could hear a new but very familiar sound: water flowing along the North North Fork and into the North Fork Klaskanine River. It started as a trickle, then slowly, steadily grew.