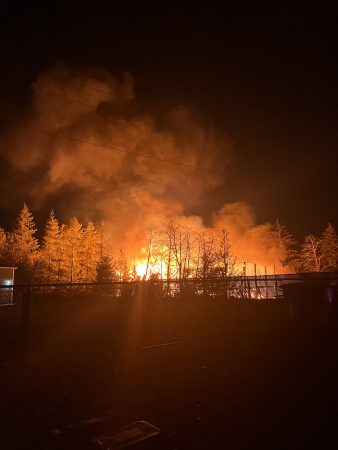 WARRENTON, Ore. — A massive, quick-moving fire destroyed a building at the High Life Adventures zip line facility in Warrenton early Thursday morning.
The building included the High Life Zip N' Sip Restaurant and a workshop.
The Warrenton Fire Department responded to the fire just after 1 a.m. and had to call in the Astoria Fire Department for backup. Crews were still addressing hot spots later in the day Thursday. No one was in the building at the time of the fire and no injuries have been reported. An investigation into the cause of the fire is ongoing.
High Life's owners could not be reached for comment.
Warrenton Fire Chief Brian Alsbury says the building — a heavy timber, pole barn construction — is a total loss. By the time fire crews arrived on the scene most of the building was considered fully involved and the fire moved quickly through the rest of the building.
The building was filled with wood and wooden elements. Some tables in the restaurant were made from thick slabs of wood and the building also included a wood stove among other materials and items that may have been factors in the blaze.
"The fire load was just extreme in this building," Alsbury said.
Aubrey Louvar and her husband live in townhouses next door. The zip line facility is just a step from their backyard and they have a clear view of the building from their bedroom window.
Louvar was watching a TV show when she heard loud banging. She wondered if someone was trying to break in or if the neighbors were having a fight. Then there was one very loud explosion and the living room lit up orange. She looked out the window and saw the High Life building engulfed in flames. Ash and embers were everywhere.
Louvar and her husband quickly left their home and got into their car to be at a safer distance. They continued to hear explosions. They didn't return to their home until around 3:30 or 4 a.m.
"The fear was definitely real," Louvar said. "I didn't know if we would have a home at the end of the night."
She thinks the building was probably already lost by the time she saw the flames.
"I don't think there was any chance of saving it," she said.