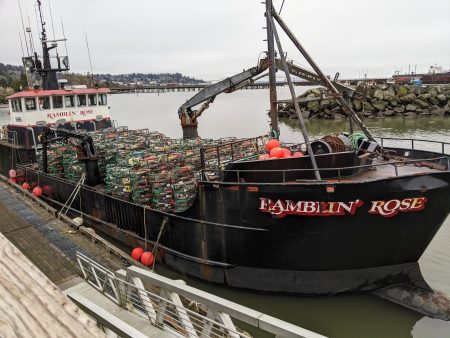 It was a dream season for Oregon's Dungeness crab fishery last year.
Fishing began on the traditional Dec. 1 opener for the first time in years. Domoic acid, a marine toxin that has hampered the valuable commercial fishery time and again in recent years, was almost nowhere to be seen in Oregon or Washington state waters.
And with a low stock of crab in processors' freezers coupled with a high demand for the product, commercial fishermen were able to command a higher-than-usual average price of $5.33 per pound in Oregon. By the end of the season they'd set a record ex-vessel value.
"Last season, everything that could go right went right," said Tim Novotny, executive director of the Oregon Dungeness Crab Commission. "And this year — I don't know if it's been completely the opposite, but it's been close."
He thought about it then added: "It's been a bruiser, is the best way to say it."
This season, Oregon saw late and staggered starts along the coast because of high domoic acid levels in certain areas.
Boats didn't hit the water on the North Coast until the end of January. They started pulling pots on Feb.1. Landings have been spotty in some areas, the weather has been bad and the average price per pound has been very low, hovering at $2.43 — the worst price fishermen have seen in over a decade.
In Washington, one crabber is missing and presumed dead after the boat he was on, the F/V Ethel May, sank at the mouth of Willapa Bay on Feb.5.
(The U.S. Coast Guard suspended its search for 25-year-old Bryson Fitch of Bay Center on Feb.6, but The Chinook Observer reports that family, volunteers and the Pacific County Sheriff's Office have continued to comb beaches and tidelands looking for the man.)
As of Friday, fishermen have landed 15.6 million pounds of crab in Oregon for an ex-vessel value of $36.8 million, according to the Oregon Department of Fish and Wildlife.
Last season, fishermen landed more than 17 million pounds for a record ex-vessel value of $91.5 million.
On average, the Oregon Dungeness fishery brings in around 16 million pounds.
But while the current season has gotten off to a shaky start and fishermen are seeing significantly lower prices than they'd like, Novtony says the good news is the crab that is coming in is huge and consumers are paying far less than usual for it.
"The benefit right now is for the consumer," Novotny said, "and we urge the consumer to take advantage of that."